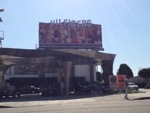 Maierato Earth Slide
Tsunamis, earthquakes and the earth sliding. We're ants but we still believe that the satisfaction of our individual needs are more important than anything else.
This new year Victor and I were in Buenos Aires, with family and friends. We spent a week in a very nice house we rented in Tigre. I posted two links to some pictures (see further below).
Victor y yo pasamos año nuevo en Buenos Aires, con la flia y amigos. Estuvimos una semana en una casa muy linda que alquilamos en El Tigre. Abajo puse dos enlaces para ver algunas fotos.